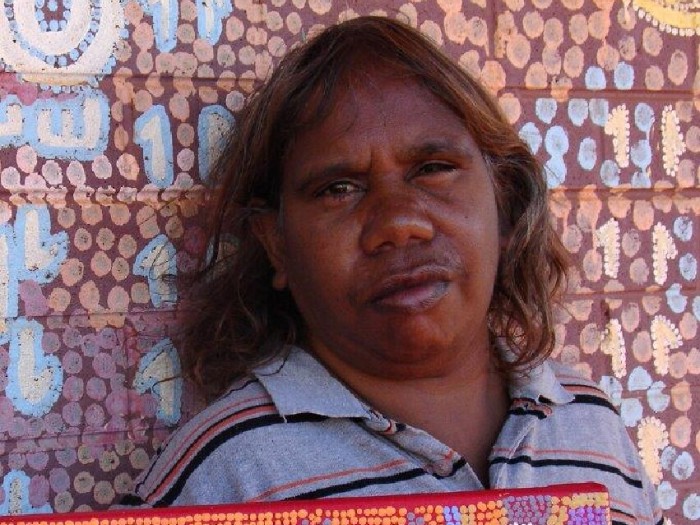 28 Apr

Ormay Nangala Gallagher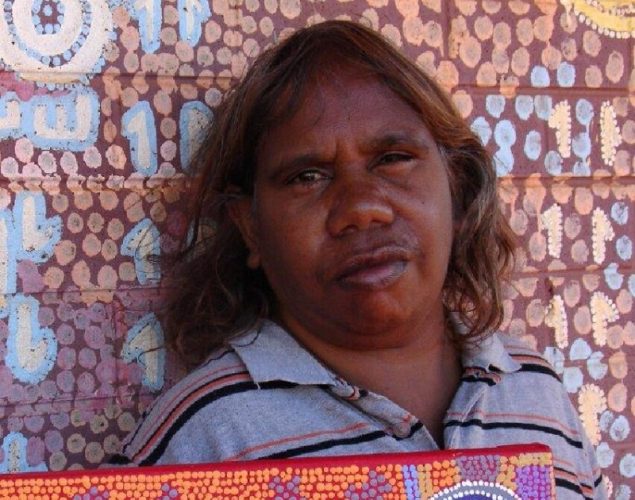 Ormay Nangala Gallagher was born in Alice Springs, which has the closest hospital to the Aboriginal community of Yuendumu, some 290 km away.
She first went to Yuendumu School then to Yirara College (1978), an Aboriginal boarding school in Alice Springs, and Sadadeen College (1978-79). She then lived in Nyirripi, approximately 160km from Yuendumu, working at the Nyirripi store (1986-94), then teaching at the local school (1995-2004) after her teacher's training via Batchelor College. Ormay is married and has two children. She likes listening to country music, going bush hunting, watching TV, meeting friends and going on holidays around Australia.
"I started painting in the 1980s and I am still painting today. I do dot painting and the Dreaming that I paint is about Emu and Water, that Dreaming is at Mikanji and that is my father's Dreaming. I also paint Pama-pardu and Emu: that Dreaming is North of Nyirripi at a place call Waylka and Wantungurru, which is also another of my father's Dreaming."
With Warlukurlangu Artists, Ormay has visited Bahrain (2008) and Delhi, India (2009).
GROUP EXHIBITIONS
2008 Les artistes Warlpiri : l'expression de la terre, The Art Floor, Geneva, Switzerland
2008 Desert Mob, Araluen Art Centre, Alice Springs, NT
2008 Artists of Nyirripi & Yuendumu, Japingka Gallery, Perth, WA
2008 A Tribute to Darby Jampijinpa Ross, Watch This Space, Alice Springs, NT
2008 Warlukurlangu Artists, the art of Yuendumu, La Fontaine Centre of Contemporary Art,
Bahrain UAE
2008 Warlukurlangu Artists of Yuendumu, The April Painted Door, Petaluma CA, USA
2008 Opening Doors into Colourful Dreamtime, ReDot Gallery, Singapore
2008 Dreamings Past & Present, Nexus Gallery, Adelaide SA
2008 Warkukurlangu Artists, Established & Emerging Artists, Hogarth Galleries,NSW
2008 Otto Jungarrayi Sims & Ormay Nangala Gallagher, Husband & Wife Act,Birrung
Gallery, Sydney NSW
2008 Yuendumu, Emerging Artists, Better World Arts, Port Adelaide, SA
2009 Nyirripi & Yuendumu Artists, Japingka Gallery, Fremantle, WA
2009 Men at Work, ArtKelch, Freiburg, Germany