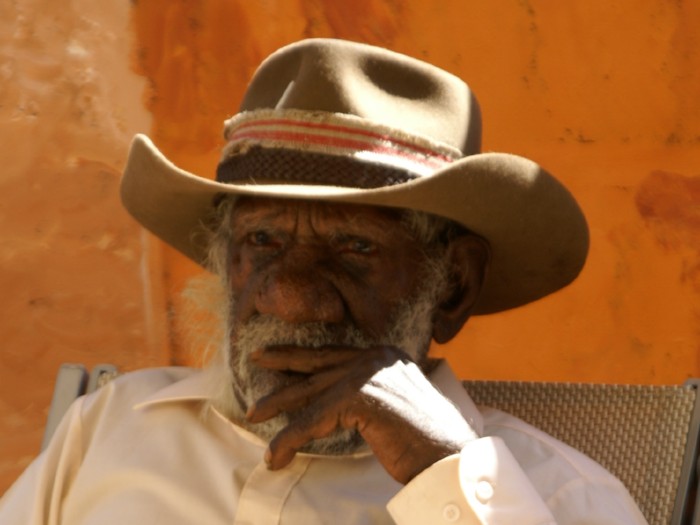 09 Jan

Kudditji Kngwarreye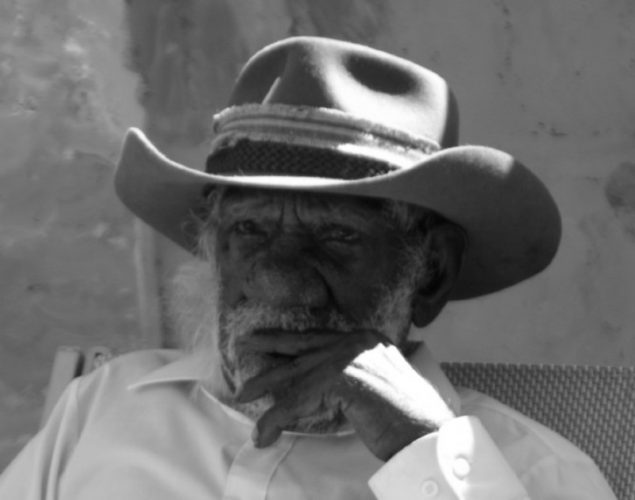 Kudditji Kngwarreye (pronounced goo-beh-chee and called Goob) is a traditional custodian of his country and of the Emu story, for which he was responsible in initiating the younger men of his clan.
Although not much detail is given about aspects of this initiation, it is generally understood that this involved the practical teaching of hunting the Emu as well as the spiritual story of the Emu ancestors. It was Kudditji's obligation to continue this story and his intimate physical and spiritual knowledge of the Anmatyerre country is what he has transferred onto his canvases.
Kudditji mixes his colours directly onto the canvas, layering his paint into a patchwork formation. Often his works will change throughout the day as different light sources draw out different colours and elements, whilst others recede. It is in this depth that his story of country and the story of the Emu resides, the complexity and vastness of his landscape only accessible in patches as they come to light.
Through kinship, Kudditji is the brother of the late Emily Kame Kngwarreye. While Kudditji began painting around 1986, his highly intuitive and gestural method of painting was not welcomed by galleries, and he was encouraged to paint in the fashionable style of the time, executing works with detailed infill. After seeing Emily catapult on to the Australian and International Art scene, Kudditji resumed his exploration in to the abstract which he continued until he 'put down the brush' in 2015. Kudditji participated in many international exhibitions and became known for his depictions of his Dreamings; their abstract imagery, bold colour use and intuitive interplay with space and form has cemented his name in the Aboriginal art scene.
But being a ground-breaking contemporary Indigenous Australian artist was just one chapter in this old man's life story. He had a traditional bush upbringing and worked as a stockman and mine worker for many years. He was also a traditional custodian of many important Dreamings, of the land and Men's Business ceremonial sites located in his country at Utopia Station, about 230 km north east of Alice Springs.
During his younger days Kudditji frequently took the young boys/men hunting emu in these lands, merging tradition with practice as part of their initiation as men. It is the land of this experience that Kudditji painted his 'Emu Dreamings' and his 'My Country' works.
While painting, he could be heard singing – his way of infusing his works with stories of the land; the ancestors, hunts, travels and the food and water of Anmatyerre country. Kngwarreye's songs will continue to echo through his beautiful artworks, which now hang in galleries, private collections, homes and offices all over the world. His passing is a great loss to the art world and to those people who knew him personally or through his paintings
Collections
Araluen Art Centre, Alice Springs
Hank Ebes Collection, Melbourne
Macquarie University, NSW
Guilleman and Sordello Collection, France
R. M. Barokh Antiques, Los Angeles, California
Mbantua Gallery Permanent Collection, Alice Springs NT
Selected Solo Exhibitions
2016: Singing Up Country | Kudditji Kngwarreye, Kate Owen Gallery, Sydney
2016: Kudditji Kngwarreye – A master painter thee is only one of him, Mandel Aboriginal Art Gallery, Melbourne
2014: Kudditji Kngwarreye, Japingka Gallery, Perth
2014: Earth + Sky, Fireworks Gallery, Brisbane
2013: Kudditji: Landscapes in the Family Tradition, Booker-Lowe Gallery, Houston, Texas USA
2013: Colours of Dreaming | Kudditji Kngwarreye, Mitchell Fine Art, Brisbane
2013: The Master Returns, Kate Owen Gallery, Sydney
2011: Kudditji Kngwarreye, Kate Owen Gallery, Sydney
2011: COLOURFIELD: new paintings, Fireworks gallery, Brisbane
2010: Kudditji Kngwarreye, Kate Owen Gallery, Sydney
2010: Kudditji Kngwarreye, Palya Proper Fine Arts Alice Springs
2009: Kudditji Kngwarreye: Pastels, Kate Owen Gallery, Sydney
2008: My Country, Kudditji Kngwarreye, Central Art Aboriginal Store, Alice Springs
2008: 30 Emu Dreamings, Kate Owen Gallery, Sydney
2008: My Country, Japingka Gallery, Perth
2006: Masterwork, Vivien Anderson Gallery, Melbourne
2006: My Country, Japingka Gallery, Perth
2006: Two Fields, Fireworks Gallery, Brisbane
2005: Waterhole Aboriginal Art, Danks Street, Sydney
2005: New Paintings, Vivien Anderson Gallery, Melbourne
2005: Colours in Country, Art Mob, Hobart, Tasmania
2004: My Country, New Paintings, Vivien Anderson Gallery, Melbourne
2004: My Country, Japingka Gallery, Perth
2004: Waterhole Aboriginal Art, Sofitel Wentworth Hotel Exhibition, Sydney
2003: New Paintings, Vivien Anderson Gallery, Melbourne
1999: New Paintings, Chapel off Chapel, Melbourne
Selected Group Exhibitions:
2017 Gems from the Stockroom, Kate Owen Gallery, Sydney
2016 Spoilt for Choice- a director's choice exhibition, Kate Gwen Gallery, Sydney
2015 Signs and Traces – Contemporary Aboriginal Art, Cultural Institute Zamek, Pozan, Poland
2015 From the Vaults – highlights from the Collectors' Gallery, Kate Owen Gallery, Sydney
2014 Vast Interiors, Kate Owen Gallery, Sydney
2012 The Colourists: Kudditji Kngwarreye and Lorna Napurrula Fencer, Japingka Gallery, Perth
2013 Sky and Desert, Foundation Burkhardt-Felder Arts et Culture, Switzerland
2010 Utopia: Eastern Anmatyerre Artists, Neo Gallery, Brisbane
2009 Size Matters, Kate Owen Gallery, Sydney, NSW
2009 Aboriginal Art, Mary Place Gallery, Sydney
2009 Rives Aborigines, Musie Arts et Histoire de Bormes-Les-Mimosas, Bormes-Les-Mimosas, France
2008 From the Air, Fireworks Gallery, Brisbane
2008 Black & White: Inspired by Landscape, Kate Owen Gallery, Sydney
2006 New Paintings, Vivien Anderson Gallery, Melbourne
2005 Big Country, Gallery Gondwana, Alice Springs
2005 Fresh from the Central Desert, Canberra Grammar School, Canberra
2004 Two Senior Men, Art Mob Gallery, Tasmania
2004 Australian Exhibition Centre, Chicago
2004 Heartbeat – Living Country, Wenthworth Hotel, Sydney
2004 Spirit of Colour, Depot Gallery, Sydney
2002 The Contemporaries, Contemporary Artspace, Brisbane
2000 Mia Mia, Aboriginal Art Gallery, Melboure
1999 Chapel Off, Chapel Gallery, Melbourne
1992 Tjukurrpa, Museum fur Volkerkunde, Basel, Switzerland
1991 Central Australian Aboriginal Art & Craft Exhibition, Araluen Centre, Alice Springs
1990 Art Dock, Contemporary Art from Australia, Noumea, New Caledonia