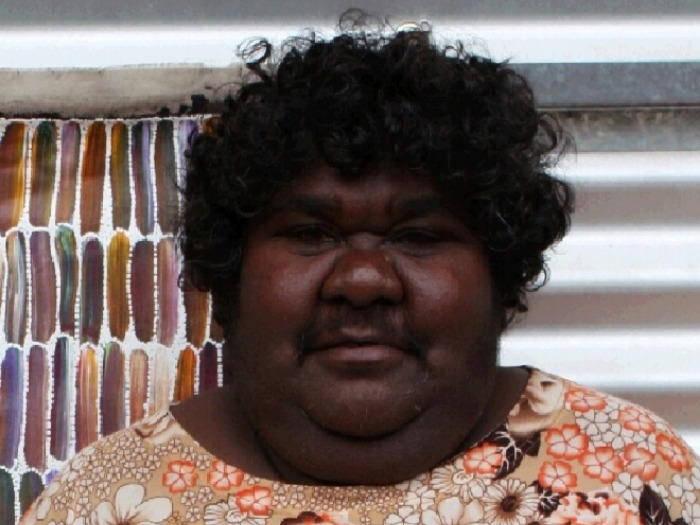 25 Apr

Jeannie Mills Pwerle
Jeannie Mills Pwerl was born on 15 May 1965. She is an Alywarr woman from the Utopia region in Central Australia. Jeannie comes from one of the most celebrated painting families in Australia.
Jeannie is a highly respected artist from Utopia and has become well recognised for her style in which she paints Anaty (desert yam or bush potato) story. Her work has been exhibited around Australia since 2004. In 2008 her large Anaty painting was accepted in the 2008 NATSIAA, the most prestigious Aboriginal art award in Australia.
Jeannie has close family connections to some of Australia's top names in art. Her mother is well known Utopian artist Dolly Mills Petyarre and her uncle the late Greeny Purvis Petyarre, a finalist in the 21st NATSIAA. Her great aunt is the late Emily Kame Kngwarreye, dubbed by art experts as one of the world's best modern and abstract artists. It is quite evident that through these influences Jeannie began to paint and bring her own dynamic style to the world of Aboriginal Art.
Jeannie lives a traditional life at Utopia as a ngangker (traditional healer or doctor) providing advice, bush medicines and applications to people of her community. She lives in Ahalpere country with senior elder Lena Pwerle and the two are heavily involved in educating and encouraging other women to participate in painting, exhibitions and culture.
She is the daughter of senior Utopian artist Dolly Mills and the niece of the late Greeny Purvis Petyarre who was a tribal elder, senior artist and ceremonial leader who lived at Boundary Bore, Utopia. Other relatives include the most famous of the female aboriginal artists – the late Emily Kame Kngwarre and respected senior artists Barbara Weir and Gloria Petyarre.
Collections
National Gallery of Australia, Canberra
Holmes à Court Collection, Perth
Mbantua Gallery Private Collection, Alice Springs
Group Exhibitions
1989     Utopia Women's Paintings, the First Works on Canvas, A Summer Project
1990     Utopia – A Picture Story, an exhibition of 88 works on silk from the Holmes à Court Collection by Utopia artists, which toured Eire and Scotland
1993     Central Australian Aboriginal Art and Craft Exhibition, Araluen Centre, Alice Springs.
1995     Mbantua Gallery, Alice Springs, NT
2002     Art and Soul Gallery, Nashville, Tennessee, USA
2002     The Cove Gallery, Portland, Oregon USA (Benefit – OHSU Heart Research Centre)
2002     Urban Wine Works, Portland, Oregon USA (Benefit – OHSU Heart Research Centre)
2002     Mary's Woods, Portland, Oregon USA (Benefit – OHSU Heart Research Centre)
2004     Last of the 20th Century, Mbantua Gallery, Alice Springs NT
2006     Colours of Utopia,   Japingka Gallery, Fremantle WA
2008     Utopia Collection, Japingka Gallery, Fremantle WA
2009     Desert Miniatures, Japingka Gallery, Fremantle WA
2010     Summer Collection, Japingka Gallery, Fremantle WA
2012     Little Gems, Japingka Gallery, Fremantle WA
2014     Small Works Collection, Japingka Gallery, Fremantle WA