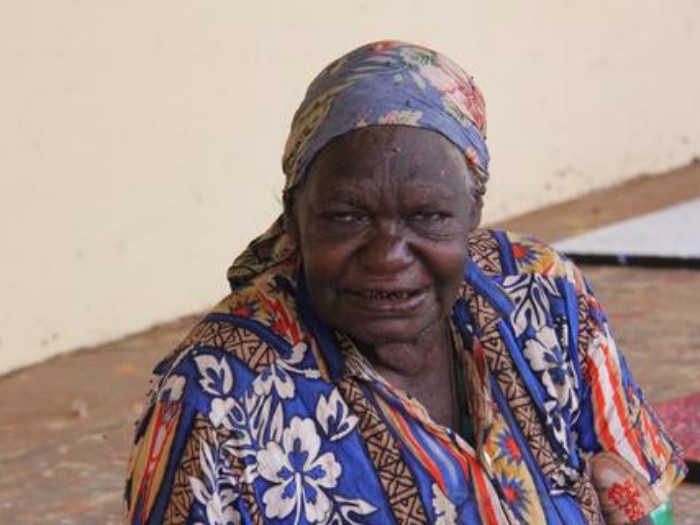 05 May

Gladdy Kemarre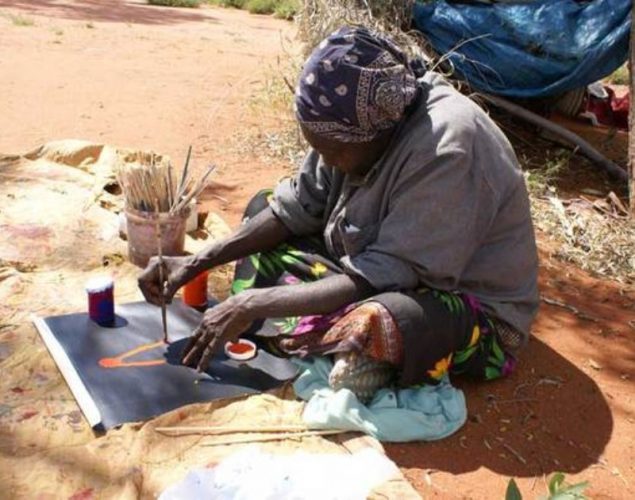 Glady Kemarre, a well known Utopia artist, began her career in the late 1970's with the medium of batik.
Over 80 other Utopia women participated in this practice for over a decade before the acrylics on canvas movement swept Utopia in the late 1980's. Glady swiftly changed mediums, as did many others, to the ease and liberation of acrylics.
Having painted now for us for many years, Glady has become known to us as a fine dot artist with a quiet yet humorous spirit. Though her ability to speak English is not fluent, she is fun to converse with and always has an intelligible glint in her eyes.
Glady usually resides with her close relatives Kathleen Ngale, Polly Ngale and Angelina Ngale in Utopia. The art of painting is a very social practice for Glady and the women of her community. Glady rarely paint anything other than the Anwekety Story, whereby fine dot work represents the sweet black conkerberry (anwekety in Glady's native language).
Awards and Accolades
2015 Finalist NATSIAA Awards
2013 Finalist (H/C) Waterhouse Natural History Prize SA Museum
2013 Winner Calleen Art Award
2012 2nd Place Redland Art Awards
2012 Finalist Togart Prize
2010 Finalist City of Albany Art Prize
Collections
The National Gallery of Australia, Canberra National Gallery of Victoria, Melbourne Mbantua Gallery Permanent Collection, Alice Springs The Holmes á Court Collection, Perth The National Gallery of Victoria, Melbourne
Exhibitions
1990 Utopia – A Picture story, an exhibition of 88 Works on Silk from the Holmes á Court Collection by Utopia Artists which toured Eire and Scotland 1994 Central Australian Aboriginal Art and Craft Exhibition, Araluen Art Centre, Alice Springs, N.T
1998 Mbantua Gallery, Alice Springs, N.T
2004-2006 Evolution of Utopia, Mbantua Gallery Cultural Museum, Alice Springs May-Jun
2008 Emily and Her Legacy, Hillside Gallery, Tokyo with Coo-ee Art Sydney in conjunction with the opening of the landmark retrospective exhibition Utopia – the Genius of Emily Kngwarreye at the National Art Centre, Tokyo, Japan
2010 Utopia, Indigenart – Mossenson Galleries, Subiaco, WA
2010 The Redland Art Awards, Redland Art Gallery, Cleveland, QLD
2010 Cossack Art Award, Post and Telegraph Building, Karratha, WA
2010 John Leslie Art Prize, Gippsland Art Gallery Sale, VIC
2010 Melbourne Art Fair 2010, Royal Exhibition Building, Carlton, VIC
2010 The Waterhouse Natural History Prize, The South Australian Museum, SA
2011 Cossack Art Award, Post and Telegraph Building, Karratha, WA
2011 Hazelhurst Art Award, Gymea, NSW
2011 The Waterhouse Natural History Prize, The South Australian Museum, SA
2011 Albany Art Prize, Vancouver Arts Centre, Albany, WA
2011 Arthur Guy Memorial Painting Prize, Bendigo Art Gallery, VIC
2011 The Fleurieu Landscape Art Award, Fleurieu Peninsula Biennale, McLaren Vale, SA
2011 City of Whyalla Art Prize, Middleback Theatre, Whyalla, SA
2011 Telstra National Aboriginal and Torres Strait Islander Art Awards, Museum and Gallery of the Northern Territory, Darwin, NT
2012 Calleen Art Award, Cowra Regional Art Gallery, NSW
2012 Albany Centennial Art Prize, Vancouver Arts Centre, Albany, WA
2012 Highlights, Redland Art Gallery, Cleveland, QLD
2012 Albany Art Prize, Vancouver Arts Centre, Albany, WA
2013 Arthur Guy Memorial Painting Prize, Bendigo Art Gallery, VIC
2013 Sunshine Coast Art Prize, Caloundra Regional Art Gallery, Caloundra, QLD
2013 Hazelhurst Art Award, Gymea, NSW
2013 Togart Contemporary Art Exhibition, Parliament House, Darwin, NT
Further References
Brody A 1990, Utopia: a Picture Story, 88 Silk Batiks from the Robert Holmes á Court Collection, Heytesbury Holdings Ltd, Perth