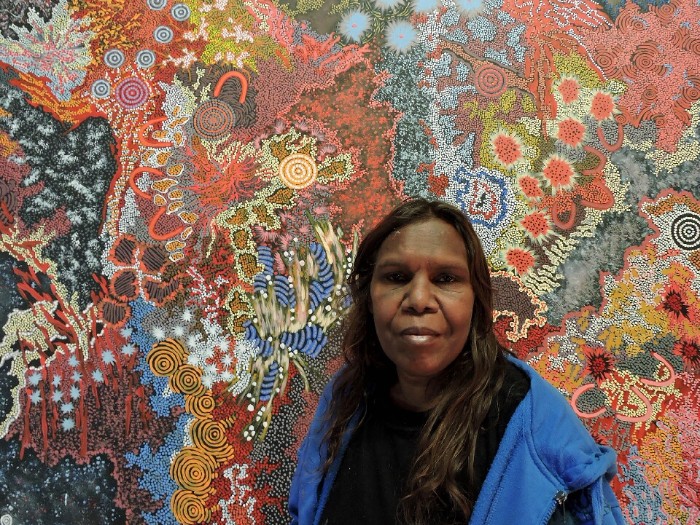 20 Apr

Gabriella Possum Nungurrayi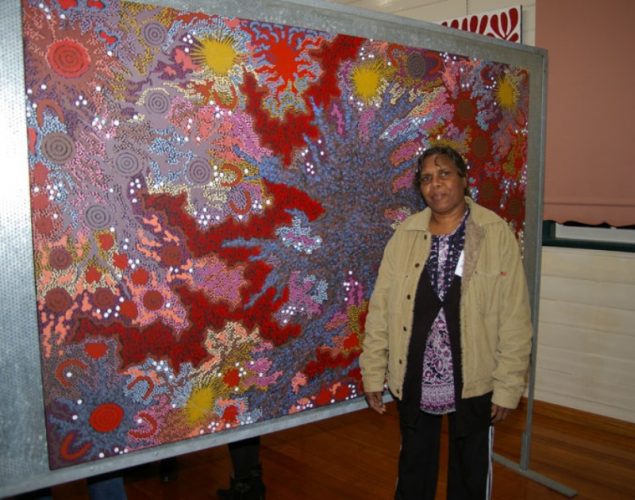 Country
Alice Springs - NT
Born in 1967 at Mt. Allan, Gabriella Possum Nungurrayi is the eldest daughter of renowned artist Clifford Possum Tjapaltjarri.
She was taught to paint by her father at a very young age, and since her father passing away, the value of her works has increased dramatically. His influences are apparent in her work, yet she has formed a style of her own.
Her paintings depict stories such as Bush Tucker (Exploding Seed and Black Seed from the Mt. Allan area), Women's Ceremonies, Serpent, Goanna and Seven Sisters Dreamings. Gabriella's work is bold and vivid in colour and composition and utilises many different techniques, the "dot" technique in particular.
In 1985, at the tender age of 16, Gabriella won the coveted Alice Springs Art Award while still a student at Yirara Lutheran College in Alice Springs. She is recognised as a culturally significant artist and her work has been exhibited in the U.S.A and throughout Europe. Her work is in many major collections including the National Gallery of Australia.
Gabriella has become known for the important commissions and installations she has done. These include being part of the Vivid Projection Programme at Sydney Opera House in 2016, her design being used on an Art Tram during the 2014 Melbourne Festival and her 2008 commission and installation depicting her custodial Grandmother's Country for the 2008 RHS Chelsea Flower Show.
Gabriella now lives in Melbourne with her family.
Collections
National Gallery of Australia, Canberra, ACT
Museum & Art Gallery of the Northern Territory, Darwin, NT
Flinders University Art Museum, Adelaide, SA
Holmes A Court Collection, Perth WA
Kelton Foundation Collection, Santa Monica, USA
Winterthur Collection, Switzerland
Corrigan Collection, Sydney, NSW
HRH Queen Elizabeth
Richard Branson Collection
Araluen Arts Centre, Alice Springs, NT
Awards & Installations
2016 Vivid Projection Programme, Opera House, Sydney, NSW
2014 Art Tram, Melbourne Festival, Melbourne, VIC
2008 Chelsea Flower Show – Gold Medal
1993 Alice Springs Art Prize, Record Cover for 'Coloured Stone'
1991 Professional Development Grant, from the Aboriginal Arts Unit of the Australia Council for the Arts
Selected Exhibitions
2017 Japingka Gallery, Fremantle, WA
2016 "From the sand to the Sails", Kate Owen Gallery, Rozelle, Sydney, NSW
2009 Generations, Aranda Aboriginal Art, Melbourne, VIC
2009 Starry Starry Nights, Framed Gallery, Darwin, NT
2009 The Best of Gabriella Possum, Kate Owen Gallery, Rozelle, Sydney, NSW
2008 Art Aborigene Australien, Paris, France
2008 Chelsea Flower Show, London, UK
2007 Shanghai Art Fair, China
2007 London Art Fair, UK
2006 Shanghai Art Fair, China
2006 'Dreaming Their Way', National Museum of Women in the Arts, Washington DC, USA
2001 Mia Mia Gallery, Melbourne
2000 United Nations Building, New York, USA
1999 Flinders University Art Museum, Adelaide, SA
1999 Aboriginal Art Galleries of Australia, Melbourne, VIC
1998 'Sztuka Aborygenow – (Art of the Aborigines)', Warsaw, Poland
1997 'The Milky Way Dreaming', Rebecca Hossack Gallery, London, UK
1993 Berne, Switzerland
1993 London, UK
1992 Coo-ee Gallery, Sydney
1992 Washington DC, U.S.A.
1988 Aboriginal 'Dot' Painting, Melbourne