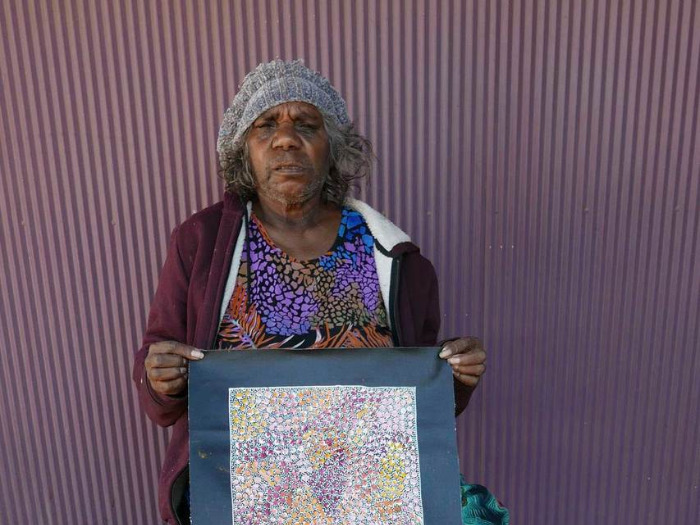 12 Feb

Eileen Bird Kngwarreye
Eileen Bird Kngwarreye was born c. 1955 in the Bush Park Region of the Northern Territory. She is an Eastern Arrernte woman and grew up at Harts Range where many of her family continue to live.
Eileen's late husband was artist Paddy Bird, the eldest son of renowned artist Ada Bird Petyarre. They have eleven children (the eldest is artist Maggie Bird Mpetyane) and many grandchildren.
Her paintings depict women gathering bush foods of the region and women's ceremony associated with her country. Eileen has been painting since the mid 1990's.
Selected Collections
• Art gallery of New South Wales
• Umpqua Bank Portland Oregon USA
• Art and Soul Gallery Nashville Tennessee USA
• New City Merchants Knoxville Tennessee USA
• Homes a Court Collection
• Art Bank Sydney
• Kerry Stokes collection
• Art Gallery of the Northern Territory
• Kelton Foundation Santa Monica USA
• Araluen Arts Centre
Selected Group Exhibitions
1998
• Mbantua Gallery, Alice Springs, N.T, Australia
2002
• Art and Soul Gallery, Nashville, Tennessee USA
• 'The Cove Gallery' Portland, Oregon, USA
• Urban Wine Works, Portland, Oregon USA
• Mary's Woods, Portland, Oregon USA
• New City Merchants, Knoxville, Tennessee USA
• Art and Soul Gallery, Nashville, Tennessee USA
• 'The Cove Gallery' Portland, Oregon USA
• Contemporary Aboriginal Art Event, Umpqua Bank, Portland, Oregon USA
• Mary's Woods, Portland, Oregon USA
• Art From The Dreamtime, Portland Art Museum, Portland, Oregon USA
Aug/Sep 2004
• USA exhibition; Portland, Nashville, Knoxville and Hartford