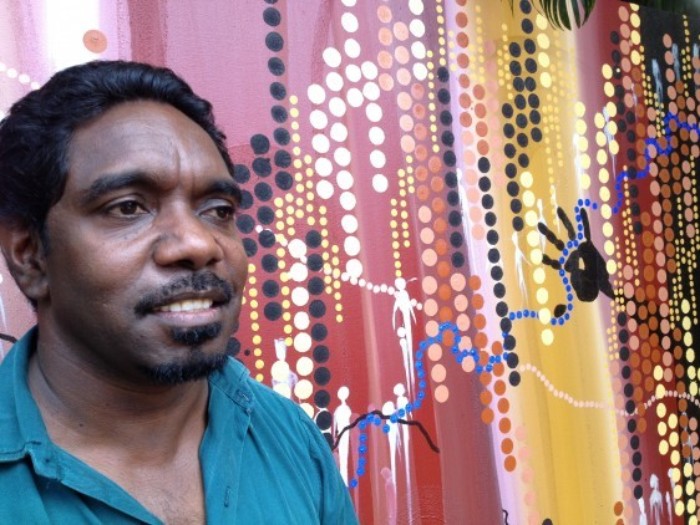 09 Jan

Edwin Lee Mulligan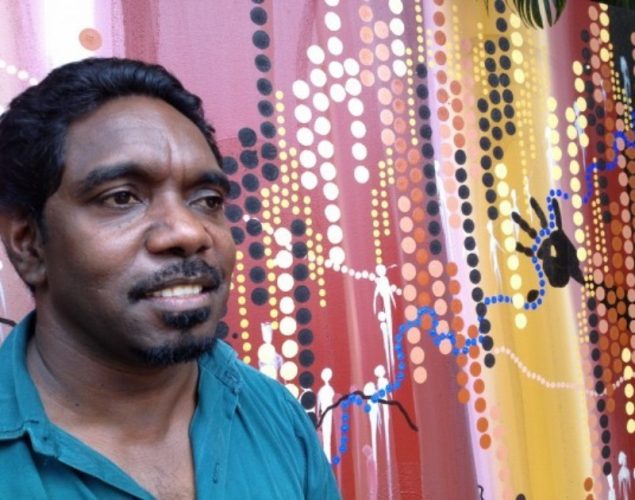 Born in Derby in 1980 Edwin is also known by his traditional name Warrda Lumbadij Bundajarrdi.
Edwin grew up in Yakanarra a small community approximately 42 kilometres South-East of Fitzroy Crossing and lived most of his early life there.
He is a Walmajarri descendant from his father's side which covers the Great Sandy Desert in the Central Kimberley. Nykina is his mothers side which stretches along the mighty Fitzroy River from Derby to near Fitzroy Crossing. His father Hanson Boxer is a well known artist selected for the Telstra Art awards in 2006 for his head carvings. His Grandfather Jimmy Pike is one of the greatest Walmajarri artists ever to live and is internationally acclaimed for his paintings and travels. Numerous books have talked about Jimmy Pike's adventures as an artist.
This artistic ancestry is the reason Edwin has started his career in art… "You gonna be a famous artist like me "…Jimmy once said to 11 yr old Edwin and now he his starting to fulfil that inspirational direction.
A gifted athlete has seen Edwin play football in Perth and throughout the Kimberley region. He has been working at Minyirr Park in Broome developing cultural guiding skills.
He is an emerging artist with great potential in both the dot painting style and also sketching. Edwin has been named 2008 Shinju Aboriginal art award winner which is the first of many awards to come his way.