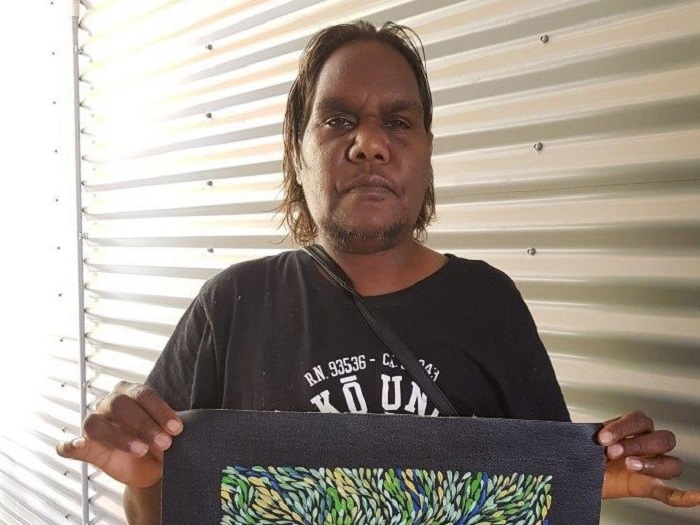 12 Feb

Cindy Morton Pwerle
Cindy was born at Utopia Station, approximately 250 km north-east of Alice Springs about c 1976. Her family's traditional country is associated with the Mosquito Bore (Lyentye) region, an outstation of Utopia where her family moved some years ago.
She is the daughter of artist Gracie Pwerle Morton and niece of famous Utopian artist Kathleen Petyarre and Gloria Petyarre. Her mother and auntie began their painting career in the 1980's at Utopia working initially with batik before transposing her designs onto canvas. Her language group is Alyawarre.
Cindy's earlier paintings are distinctively minimalist, highlighted by delicate dotting and a traditional palette. Depicted using an aerial perspective, many of her works have subtle colour variation. Other works have subtle dissecting dotted lines, that have rhythmic flow across the canvas.
One of her most commonly depicted subject is the bush plum known to the Alyawarre people as Arnwekety, which she depicts in her Bush Plum Dreaming paintings. The story details bush plum seeds as they are blown across the lands at the time of creation. Many works depict women winnowing the seeds of the bush plum in preparation for bush damper.
The bush plum is a prostrate plant that grows in a great profusion of colour after the rain, but very quickly disintegrates after long hot summer months. Generally found growing alongside creek beds, it is a small fruit with black seeds that can be eaten raw or cooked and is collected when the fruit is golden in colour. The bush plum continues to be an important food source as it is very high in vitamin C content. The Dreaming is celebrated in women's ceremonies which teaches the young initiates about seasonal change both in nature and in women's lives.
Her other most depicted subject is the Mountain Devil Lizard Dreaming. The Mountain Devil Lizard holds special significance to the Utopian people, as the Lizard's journey throughout the land defined it's landscape and sacred sites.
From the early minimalist works, Cindy has developed her own individual style expressing her stories about country that are highly detailed and often combining both strong lines and semi-circular designs. She is a highly sought after artist.