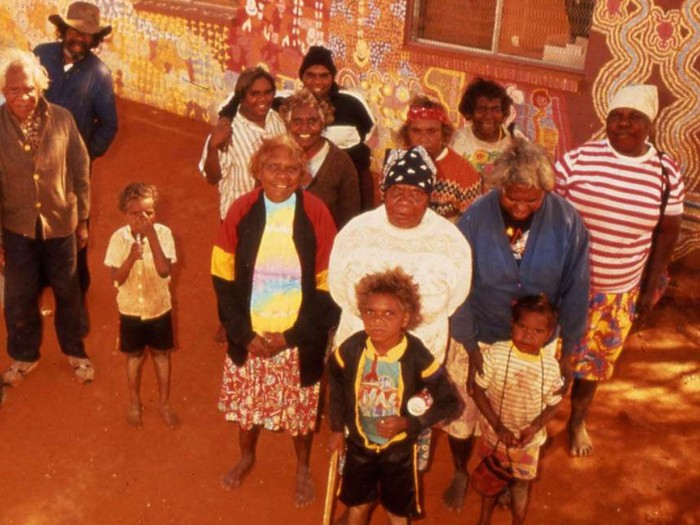 06 May

Warlukurlangu Artists
Warlukurlangu Artists is one of the longest running and most successful Aboriginal-owned art centres in Central Australia.
It has a national and international profile and its art has been featured in hundreds of exhibitions and publications in Australia and around the world.
Warlukurlangu means 'belonging to fire' in the local language, Warlpiri, and is named after a fire dreaming site west of Yuendumu.
Warlukurlangu Artists is based in the community of Yuendumu in Central Australia, located 290km northwest from Alice Springs on the Tanami Road. Yuendumu is a large Aboriginal community; the population fluctuates between 700 to 1000 people and it comprises families from similar language groups with strong cohesive traditional culture. Yuendumu has a school, clinic, police station, several shops and other Aboriginal organisations including Mt Theo Youth Program, Kurdu Kurdukurlangu Childcare Centre, Western Desert Dialysis Unit, PAW Media, and Women's Centre.
Warlukurlangu Artists also supports the artists from the neighbouring Warlpiri communities of Nyirripi and Yuelumu.
It is a fundamental aim of Warlukurlangu Artists to share Warlpiri culture and in addition, to increase awareness about Aboriginal culture generally, and to broadly support Indigenous causes. Over the years Warlukurlangu Artists has supported its own community and other organisations working to improve conditions for Aboriginal people. It has contributed funds or artworks for fund-raising to a number of projects such as the Yuendumu Community Swimming Pool, Kurdu Kurdukurlangu Childcare Centre and Shalom Gamaroda Scholarship Fund which supports Indigenous students studying for a variety of medical and health related degrees at University of NSW.